My dear boyfriend bought me these brushes (thank you baby! i heart u) from coastal scents along with 4 samples of exotic skin foundation. Take a look at the packaging, isn't it pretty?
:D
Coastal Scents also gave me a sample of eyeshadow in Sandy Is. Here are the brushes that I got:
- Black Sable Shadow Brush
- Chisel Mini Detail Brush
- Italian Badger Round Crease Brush
- Pink Kolinsky Lip Brush
- Tapered Crease Eye Brush
- Also, I got the Exotic Skin Foundation Samples (1-4)
FIRST BRUSH : Black Sable Shadow Brush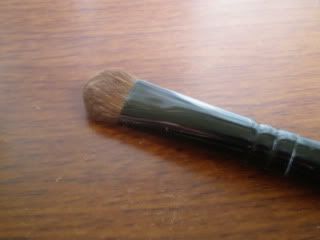 My thoughts:
This brush reminds me of the E.L.F. eyeshadow brush, only that the ELF brush is a tad smaller than this. First time I washed it, it barely shed any hair. The hair is soft,
however
, when I started using it on my eyes, I feel like this brush is poking my eyelids and it hurts! I never had a problem like this with my E.L.F brush. It does the job tho when it comes to packing colors on your lids, tho I just can't stand the "poking" sensation.
Rating
: 2 out of 5 :(
SECOND BRUSH: Chisel Mini Detail Brush
My Thoughts: I honestly don't know why I chose this brush. I never thought this brush would be that small! It's only 4.5 inch in length! As the name implies, its a detail brush. I've used this brush to apply highlights near my inner eye canthus as well as used this as an eyeliner brush (use it wet for better effect :D) It didnt shed any hair at all. A tiny brush that has multi-purpose... you can't beat that for 1.99 bucks.
Rating: 4 out of 5 :)
THIRD BRUSH: Italian Badger Round Crease Brush
FIFTH BRUSH
: Tapered Crease Eye Brush