Hello babies! I hope most of you are done now with school and is ready for Christmas vacation! I can't believe its less than a week till Christmas. Time flies soo efffing fast!
Yes ladies, I graduated last friday! Omg, felt sooooooooooooo good. I'm sooo glad I'm done with school!!! It was a bittersweet day for me. Here's some pictures to share you guys...
Ms. Debbie Pinning me. I LOVE HER!
Going to miss you guys :(
I love my girl Tenika! :)
Kaaaaaatiiee! Im going to miss her :( MY FACE LOOKS FREAKING HUGE IN THIS PICTURE!!!!
Cousins and Aunt whose an RN :)
My Grannies! Yep, ALL of them were RNs as well. Psstt..filipinos. lol.
@ one of my favorite restaurants,which is
Biaggi's
of course. Messing around in the bathroom.
Garlic Shrimp Oreganata = LOVE
Now, on to another chapter of my life...which is looking for a job. LOL. Actually no,
PASSING THE BOARD
. I plan on taking the
NCLEX
(which is the board for registered nurses) by the end of January or first week of February.
The earlier, the better
as they say. If I fail, oh well, its not like I can't take it again. Hehe. But yeah... and I got to apply for out of state licensure so I can work outside of Illinois. I can't believe I'm done!
Thank you ladies for all the support!
On the other news...
THE Bf got me a
Wii Sports Resort
as part of my graduation gift! YAAAY!!!
(

source:

i.neoseeker.com

)
Check this demo video i saw on Youtube
FUN FUN FUN
! Something to keep me busy!
And for my other graduation gift, babyloo got me a gift certificate for
LUSH
!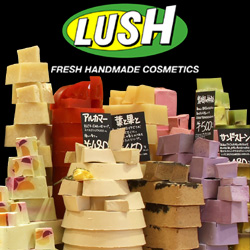 (source: styletips101.com

)
(source:

bgviewsnetwork.com)
I've been
CRAVING
for lush for a almost a week now! I
NEED
to buy it, SOON! I've been craving more for skincare/bath stuff lately than cosmetics. I'm still debating whether to buy it online or at the store. I know buying it on the store is always better, but I gotta drive all the way to Chicago for that! And I heard shipping is bad?Oh well... I'll think about it.

What would you guys recommend getting from

LUSH

?
I hope you guys are done with Christmas shopping! I'm not..lol! Stay pretty babies. xoxo.