Hello Everyone! I finally bought my first ever MAC matte lipstick! Most of my MAC lippies are lustre and satin finishes, but ever since I got this (matte lippie) it will definitely not be the last and I want more of it!
I went to MAC couple weeks ago and asked the MUA whats a good nudy pink color that has no shimmers whatsover. She showed "Kinda Sexy", a matte lippie. Then she asked me if I like to wear lipgloss and I said well sometimes but not a big fan of it, and she took the Lady Gaga Viva La Glam lipglass (which,honestly,never knew they had one and thought it only came with the lipstick.omg, im THAT outdated already) and pair it with the lippie.
As soon as I applied the lipgloss to the lippie, omg, I just died...its probably the most gorgeous nudy pink combo i've ever seen in my life.
Here are the products:
L-R: Viva La Glam Lady Gaga lipglass, Kinda Sexy Matte lippie
The lipglass looks "shocking" by itself, but if paired with kinda sexy, it neutralizes and enhance the matte lippie color,giving you a nice glossy,nudy pinkish color.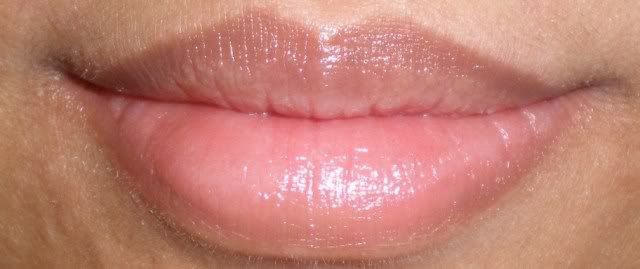 Here's my nude lip.Pardon my facial hair on the right side, i know i need some touch up.
With "Kinda Sexy"
"Kinda Sexy" with Lady Gaga Lipglass. It looks rather "streaky" here. But I promise, the color looks fabulous in person!
The Versatile Blogger Award
My Boo Steph C. of
Beauty Is Not Caused
nominated me for an award. I haven't done these in awhile, so let do this!
The rules for this award are:
-Thank the person who gave you the award and link back to them in your post.
-Tell us 7 things about yourself.
-Award 15 recently discovered new bloggers.
-Contact these bloggers and let them know that they've received the award.
I've done something similar to this sometime long ago, so im goin to try to think of 7 new things!
1) I love the Resident Evil series so much that I played RE 5 for the 3rd time again with my sister the past few days. (Can't wait for RE 6!)
2) I HATE waking up in the morning before going to work. Instead, as soon I get home from work (which is around 2-4 pm..depends if I get my job done on time which is almost rare) I usually sleep right away, wake up and I'll be up all night long. I just don't like the dragging- yourself-out-of-bed-then-go-to-work-in-1-hour feeling.
3) I like chewing on ice, even if everyone knows its bad for your teeth
4) The "Black & Yellow" song has been stuck in my head for weeks now.
5) I've been obsess with those Urkel/nerdy glasses lately
6) I wear these funky shape ups for work and I freakin LOVE IT. And I have the exact same model shown below.
7) I've been craving to go to a casino place and play some slot machines. I miss VEGAS, maybe its a sign I need to go back! *saves up*
I'm nominating anyone who joined my giveaway!
Enjoy the rest of the week!

xoxo
FTC disclaimer: I am not affiliated with the product(s) featured on this post. No monetary or product compensation is involve.